5 Movie Podcasts to Start in 2019
If you're not part of the podcast craze then trust me, you are missing out. I am a huge Podcast junkie. I listen to podcasts on the train to work. I listen to podcasts while I'm walking to the weekend markets. I listen to podcasts while I'm cleaning the house.
I'm A PODCASTAHOLIC.
For me, my podcast journey all started back in 2014 with Serial, an investigative journalism podcast hosted by Sarah Koenig. If you've never listened to this podcast series and are even remotely interested in crime mysteries or unsolved crime then you must start with this series which really kicked off the crime fanatic craze… and podcasting craze for that matter. Even if you're not usually into crime, this one has you on the hook from start to finish with incredible attention to detail. You'll be flip flopping back and forth trying to decide if Adnan really killed his girlfriend the whole time.
Now it's ture, Listening to Podcasts is habit forming (I can attest to that) and the average podcast listener listens to five podcasts per week. (it depends what my schedule it like but for me, it's more than five). It's partly because podcasts are presented and produced by passionate people. People who aren't just hosts or actors plucked out of obscurity. These are real people and real experts of their field, and sometimes not even experts in the academic sense of the word, merely everyday people with a true deep interest and passion in the subject.
WHAT PODCASTS INTEREST YOU?
There are new podcasts popping up left, right and centre and topics to peak everyone's interest. From architecture and design [99% Invisible] to Meditation sessions [Meditations Minis] (both are podcasts I download and listen to regularly) and with most episodes around 45minutes-1hour in length it's easy to grow a rapport with the host(s). Couple this with the growing obsession in binge worthy longe form content and podcasts are a perfect winner.
So now you know how much I like podcasts. You also already gathered (hopefully judging from my website) that I'm a gigantic movie fanatic. So, you guessed what is coming next. I listen to plenty of movie themed podcasts. Some cover the latest movie news, trending Hollywood topics and film reviews, and others take a deeper dive into a niche slice of the industry.
If you are not on the movie podcast bandwagon yet, then do yourself a favour and start listening to some of these great podcasts in 2019:
I am constantly impressed by the breadth of movie knowledge from hosts Eric Kohn and Anne Thompson. With insightful award season and film festival coverage, I always take notes when they announce their Oscar predictions because they are usually spot on.
First Air Date: July 2014
Each week on Screen Talk, Indiewire's chief film critic Eric Kohn talks with Thompson on Hollywood's Anne Thompson about the indie film world and beyond -- from film festivals to new releases and the future of the business.
I've been a fan of the slashfilm guys for as long as I've liked podcasts. In fact, they were the very first movie podcast I subscribed to. They dig deep into movie reviews with a lot of detail, quite often they even disagree and that makes their debates even more interesting.
The segment "Slash Film Court" hilariously argues the behaviours of cinema goers. For example is sending a discreet text or is saving a seat in a busy session ever appropriate. It's pure gold.
First Air Date: May 2008
The Slashfilmcast is the official podcast of Slashfilm.com. In the Slashfilmcast, hardcore geeks/bloggers/journalists David Chen, Devindra Hardawar, and Jeff Cannata debate, pontificate, and delve into the latest films, film news, television shows, and entertainment-related items from the past week. Weekly guests include everyday bloggers, webmaster luminaries, and movie stars from all walks of life.
Uncovering obscure stories from Hollywood, this is both a movie lover and history lovers delight. This podcast is one of the newest additions to my library and I'm loving it.
First Air Date: October 2017
You Must Remember This is a storytelling podcast exploring the secret and/or forgotten histories of Hollywood's first century. It's the brainchild and passion project of Karina Longworth (founder of Cinematical.com, former film critic for LA Weekly), who writes, narrates, records and edits each episode. It is a heavily-researched work of creative nonfiction: navigating through conflicting reports, mythology, and institutionalized spin, Karina tries to sort out what really happened behind the films, stars and scandals of the 20th century.
With a female focus spin on the latest film reviews and news, Screen Queens is a breath of fresh air for film lovers searching for well rounded perspectives on film talk.
First Air Date: March 2018
The sister to online magazine Screen Queens. Talking all things film, the women in them and the women who make them. Hosted by Millicent Thomas & Megan Wilson.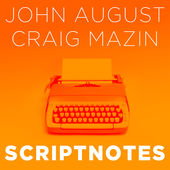 Focusing on screen writing, Script Notes has great discussion points for evaluating and breaking down film language in a general sense. You don't have to specifically be into screen writing to take away a deeper appreciation for storytelling and it's technique.
First Air Date: August 2011
Screenwriters John August and Craig Mazin discuss screenwriting and related topics in the film and television industry, everything from getting stuff written to the vagaries of copyright and work-for-hire law.