7 Things To Watch If You Liked Annihilation
Written by Rhianna Trimble
I remember my first sci-fi film like it was only yesterday. Star Wars Episode I: The Phantom Menace isn't the best example to give on why I love sci-fi so much but I'll roll with it.
Anything is possible in a science fiction film.
Aliens, time-travel, and bunnies named Frank. I think I always liked the idea that it didn't have to seem real, I found comfort in the escape.
My favourite science fiction film has to be Inception.
It's very much grounded in the real world, it's ideas about dreams and escapism are beyond anything this world will see. Christopher Nolan's detail and visual style make fall into these dreams over and over again. After each watch, I'm still amazed by Inception's impact.
Annihilation
Annihilation follows 5 women as they embark on a dangerous expedition into a foreign space called 'The Shimmer'. Each woman has their own reasons for being there, but Lena (Natalie Portman) may be the most determined to find some answers when her husband disappears in The Shimmer.
Director, Alex Garland has given us a unique sci-fi film that will leave your mind blown. Rarely do we get to see a film with such depth and complicity with an all-female cast in the spotlight, and have their characters taken to their full potential.
Annihilation is isolating, intense and visually beautiful, a film all sci-fi lovers like myself have to see at least once.
liked annihilation?
here is what you have to watch next...
This sci-fi drama hit TV started in 2013 and kept my interest until the end of the show in 2017. Watch as Sarah Manning witnesses a suicide and gets sucked into the dark world of human cloning. Themes include DNA manipulation, natural, and secret organisations. Sound familiar? 50 episodes is a lot to commit to but let me tell you once you start you won't want to stop.
Sunshine sees an all-star cast of international astronauts who are trying to reignite the dying Sun in 2057. Space is not so forgiving for these characters as they fight to survive this impossible mission. It'll leave your mind blown, mouth open and eyes amazed. Sunshine is bound to be added to your list of underrated sci-fi films you force everyone to watch.
A quirky, film noir style, mystery, Richard Ayoade brings us, Jesse Eisenberg and Jesse Eisenberg. He's living a nightmare when his more skilled and confident doppelgänger appears in his office and threatens everything he cares about. British dark comedies are rarely this creative with their style and story, The Double is another film where seeing double messes with your mind. What is real, what is fiction? You may never know.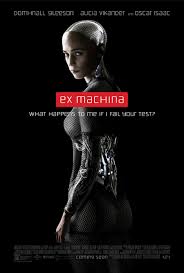 If you haven't seen this already, where have you been? Ex Machina follows Caleb who travels to an isolated island to work on a secret artificial intelligence project and ends up developing feelings for an AI, named Ava. Artifical intelligence is just as creepy and dangerous as natural intelligence. Garland apparently loves to terrify me with both. A must watch for sci-fi lovers.
Scarlett Johannson drives around the Scottish countryside picking up men…that's the whole plot. I'll try to convince you to watch this by saying that the last scenes of Annihilation are extremely reminiscent of Under the Skin. Creepy, bone-chilling and weirdly beautiful. Plus did I mention Scarlett Johannson, that's reason enough to watch.
If you've seen Requiem for a Dream or Black Swan, make The Fountain another addition to the list of Aronofsky films you can pretend to understand. Tom and Issi cross time and space trying to find a cure for Izzi's cancer while Tom struggles with his morality. Trying to keep their marriage together while questioning existence ain't no picnic.
Be prepared for tears. lots of them. Never Let Me Go follows three best friends as they grow up in a boarding school that breeds children for organ donation. Trying to live and normal life isn't easy when you know your fate but they try to make the most of it. Get the tissues ready for this coming of age story with a dystopian twist.